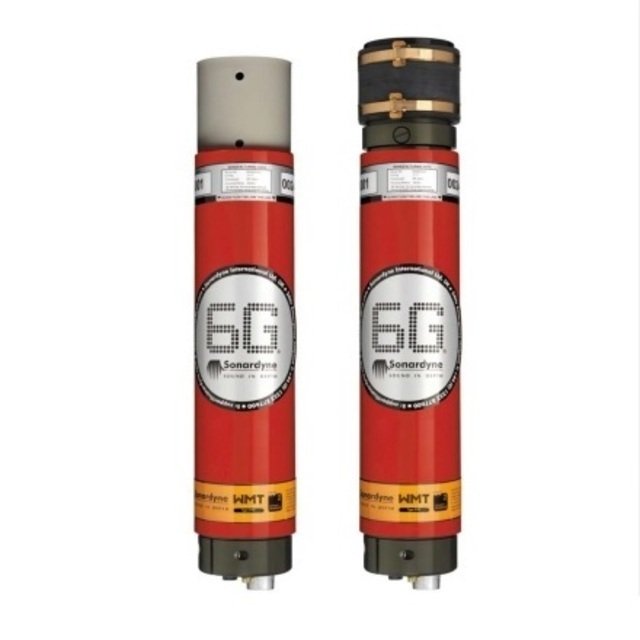 The Wideband Sub-Mini 6 Plus (WSM 6+) is Sonardyne's latest generation of USBL transponders that is designed for towfish and ROV positioning, and tracking other mobile targets in water depths up to 4,000 metres.
WSM 6+ has a compact and rugged design, also offers superior ranging accuracy and fast USBL position updates. Compare to predecessors, the WSM 6+ offer full two-way Wideband support – interrogation and reply signals. All Wideband V2 and V2+ signals are supported. The configuration is programmable using supplied software and a serial link or it can be configured acoustically via iWand. This allows the WSM 6+ to be configured for use with all of the popular MF frequency acoustic navigation systems.
The Type 8370-1111 WSM 6+ is equipped with an Omni-directional transducer and is depth rated to 1,000 metres making it suitable for a wide range of general USBL tracking applications.
The Type 8370-4112 WSM 6+ is a 4,000 metre rated unit and features a higher power directional transducer.
Both types of WSM 6+ have a depth sensor fitted as standard to aid USBL positioning accuracy and an external on/off switch to save the battery when not in use.
For tasks in Vietnam offshore area, WSM 6+ shows stable working ability with strong signal for 2 days continuously. With a lot of available beacons which can be mounted on ROV or Towfish right from the start, we always have contingency plans in case of weakness beacon's signal to ensure positioning quality is best all the time.