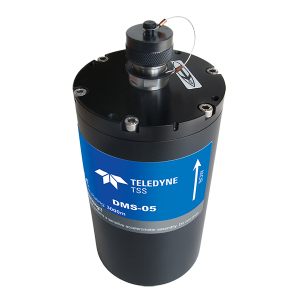 Operating vessels at sea is, by its very nature, a highly challenging activity. In order to undertake tasks such as wave height monitoring, using cranes during rough weather, or determining where vessels are using dynamic positioning, roll, pitch and heave motion needs to be measured. Based on these data, positioning system calculates to edit for result. It is so necessary in surveying at depth water areas.
Being one of well-known trademarks in such of products, Teledyne motion sensors provides accurate motion measurement in all sea conditions at anywhere such as offshore platforms, large vessels, helicopter landing decks, cranes and positioning systems. Incorporating an enhanced external velocity and heading aiding algorithm for improved accuracy during dynamic operation, the solid state angular rate sensors always offer reliability in the highest performing vertical reference units ever produced by TSS.
The DMS range of sensors is available in surface or subsea variants - the subsea unit is rated to 3000m as standard with 6000m available on request. The latest DMSView software program is an intuitive Windows™ based program enabling installation, set-up and integrity checking, and monitoring of the sensor. The user can select from a series of frequently used data protocols or configure a bespoke output from a selection of variables.
Here GSP, we equipped the most advanced types of DMSs, including DMS 5 and DMS 10 with accuracy 0.05o and 0.1o, respectively. These types of equipment also provide high dynamic accuracy during vessel turns.