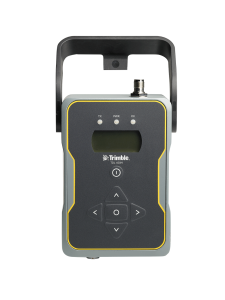 Designed to support all aspects of GNSS surveying, the Trimble TDL 450 series offers flexible configuration options and rugged reliability. For surveyors, this device is a tool which transmit information through radio technology.
The Trimble TDL 450 series is an advanced, high speed, wireless UHF data radio built to endure the stresses of daily use in harsh conditions. Full metal construction help device work in any condition of impact and weather.
The full-function user interface streamlines field configuration and troubleshooting so you can maintain maximum productivity. Adapt as conditions require: for longer baselines you can dial up the power, and when the work area is smaller, a lowerpower output extends battery life.
The Trimble TDL 450 series even provides access to diagnostic data in the field. So, you can solve signal strength challenges and make adjustments to stay more productive.
As a transmitter, the Trimble TDL 450 series seamlessly broadcasts corrections to radios and radio-enabled devices. Network coverage can be enhanced by the use of one or two repeaters. As a repeater, the TDL 450 series enables you to reach inaccessible or obstructed locations due to its extended range and seamless coverage around obstacles. Because it is so versatile, one extra radio can be used as a backup or as a "spare" for multiple tasks.
At GSP, Trimble TDL 450H is normally used to transmit information between Rigs and Tug boats. These information is later displayed on HydroPro software in order to serve offshore tasks.
Prosciutto shoulder sirloin beef ribs fatback jerky. Turducken andouille pork loin, sausage tri-tip cow prosciutto hamburger fatback alcatra brisket ribeye pork belly swine. Ham porchetta prosciutto hamburger rump, cupim capicola sirloin tongue. Filet mignon pork chop venison spare ribs doner, picanha short loin pork belly frankfurter ham hock short ribs chicken cupim capicola. Chicken turkey boudin prosciutto, fatback swine turducken landjaeger tri-tip chuck pancetta flank.