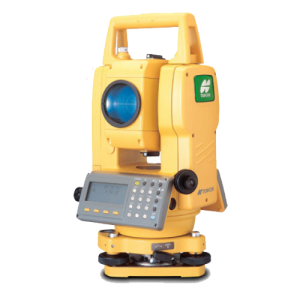 Total station is a surveying equipment combination of Electromagnetic Distance Measuring Instrument and electronic theodolite. It is also integrated with microprocessor, electronic data collector and storage system. The instrument can be used to measure horizontal and vertical angles as well as sloping distance of object to the instrument.
Being among widely-known total stations, the GTS-255N was designed from the ground up to deliver the very latest technology advantages, all in a small, sleek design.
Featuring a class leading EDM unit, the GTS-255N is able to measure up to 3100 m to standard prisms, and can measure in reflectorless mode up to 500 m at an incredible 2 mm + 2 ppm accuracy. The GTS-255N contain many outstanding functions, including:
Superior Waterproof and Dustproof
High Accuracy & Long Measuring Range
Enhanced Absulute Encoder
Versatile Application Functions
Dual-Axis Tilt Sensor
Topcon GTS-255N is mainly used by land surveyors and civil engineers, either to record features as in topographic surveying or to set out features (such as roads, houses or boundaries). In marine survey field, total station can be used to calibrate DGPS and Gyro Compass relying on base points at port.