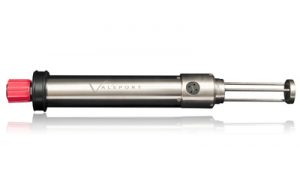 The miniSVP is a new generation Sound Velocity Profiler, designed to make the best SV measurements in the world available to everyone.
Featuring Valeport's unique acclaimed "time of flight" SV sensor, the miniSVP is available in either 500m rated acetal or 6000m rated titanium versions. A single C cell and large Flash memory allow hundreds of profiles to be recorded, and the pre-programmed profiling patterns allow it to be setup and deployed quickly and easily.
The miniSVP features a selection of pre-programmed sampling regimes, covering many standard applications. Data may be sampled from 1 to 16Hz, making it suitable for rapid profiling or for continuous measurement at a fixed point.
The instrument will operate autonomously, with setup and data extraction performed by direct communications with PC before and after deployment. It also operates in real time, with a choice of communication protocols fitted as standard and selected by pin choice on the output connector.
For GSP, sound velocity is especially necessary in underwater positioning. Because we are awake that a little change in sound velocity can affect to distance between transceiver and responder, as well as affect the coordinates of targets. Therefore, we always make sure that sound velocity has to be measured carefully beforehand any activity is deployed.