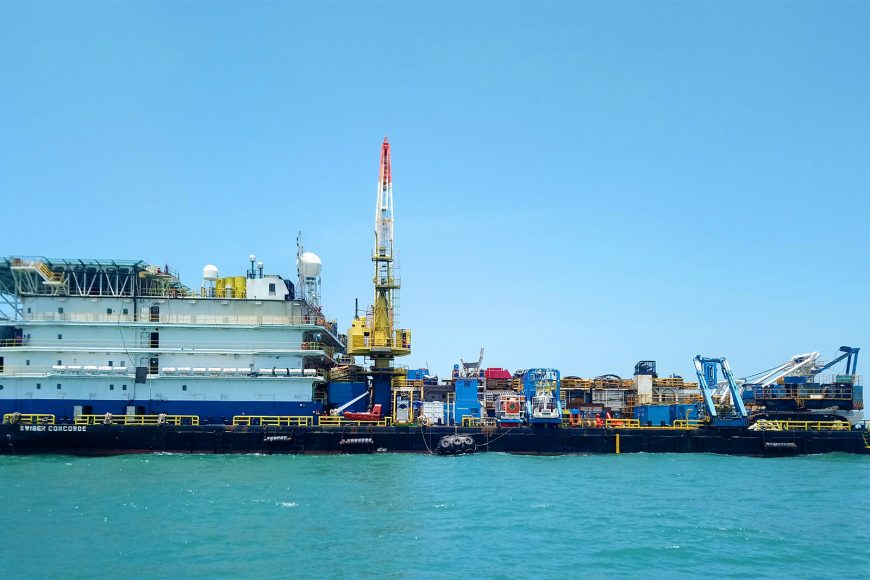 Green Star positioning JSC was contracted by Thien Nam Offshore Services JSC (TOS) for the provision of positioning and navigation services to support the Barge Swiber Concorde move to CTC1 JACKET for running anchor operation, Ca Tam Field, Block 09-3/12, Offshore, Vietnam.
These services comprised of the provision of personnel, positioning & navigation equipment on the Barge Swiber Concorde; M/V PTSC Tien Phong and VT-101 ; the Bell of SAT for diving and ROV Quantum 3 for survey to obtain request in SOW. This report on positioning describes the scope of work, methodologies and results during positioning and navigation.
CA TAM FIELD DESCRIPTION
The "Ca Tam" Oil Field is located at Block 09-3/12, approximately 160 km South East of Vung Tau City, offshore the Socialist Republic of Vietnam. It belongs to Joint Venture of Vietsovpetro, PVEP and Bitexco. There are two wellhead platforms  . (CTC1  and CTC2) in the "Ca Tam" Oil Field  Development Plan. The CTC1 platform will be installed in the first stage and the CTC2 platform-  in future.
The CTC1 wellhead platform consists of Jacket with Boat Landing, MSF – Module Support Frame (Sub Main Deck), Topside with Vent Boom and Helideck. There are 12 well slots on the CTC1 platform. CTC1  platform topside facilities are able to accommodatethe processing of the well stream fluid, gaslift gas and water injection requirements as well as other utility systems.
The CTC 1   platform is connected to the nearest existing platforms located at the White Tiger, White Bear and Dragon oil fields, block 09-1, via subsea pipelines and cables.  Produced liquid of the CTC1  platform will be transported to the  RP2 platform at Dragon oil field for further processing. Separated gas – to CCP platform via BK14 (at White Tiger oil field) and GTC1  (at White Bear oil field) platforms. Gaslift gas and water injection for CTCl will be supplied from GTC1 platform via subsea pipelines.
The CTC 1   platform is designed as a hub platform which will be connected to and received products from the CTC2 platform via subsea pipelines and cables in future.
In first stage, the "Ca Tam Oil Field Development Project" includes 5 sub-projects called  "CTC1   Wellhead  Platform",   "Subsea   Pipelines  and  Cables",   "RP2 Modification", "GTC1 Modification" and "BK14 Modification".