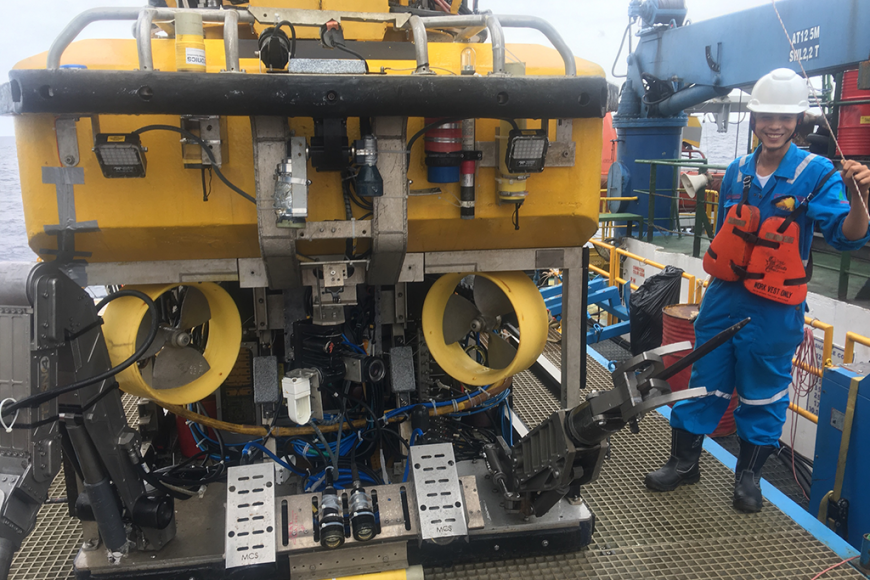 The PTT Offshore Pipeline External Survey 2018 Campaign is located in the Gulf of Thailand, mainly covering the pipelines between ERP, Bongkot, Arthit, GBS, and JDA.
This report presents the results of the external survey for PTT Public Company Limited pipelines survey within the inspection program covering the following pipeline and structures:
32'' x 171.3 km long spur pipeline from BKT to ERP
24'' x 160.8 km long trunk pipeline from ERP to KNM
24'' x 18.5 km long connecting pipeline from ACPP to 42" PLEM
42'' x 260.2 km long spur pipeline from JDA KP60.4 to ERP
24'' x 38.1 km long connecting pipeline from GBS to 3rd Pipeline PLEM
The main project contractors employed to perform the PTT external pipeline survey was PTSC Offshore Services JSC (POS), who utilised PTSC's vessel (PTSC Binh Minh), operating one (1) work-class and one (1) observation-class ROV. POS sub-contracted survey and navigation services to Green Star Positioning JSC for survey, data processing and navigation spread and Fugro Singapore Pte Ltd for CP (Cathodic Protection) survey.
The inspection and survey tasks were performed as per the requirements outlined within the documents Appendix 3 – ROV Subsea Pipeline Survey Procedure and Appendix 4 – ROV Subsea Structural Survey Procedure of POS-PTT-OPES-001.
The routine inspection video and anomaly video clips were recorded utilising Visualsoft software suite in (ASF) advanced systems format and event logs were recorded using Visualsoft Eventing module.
Summary of the pipeline survey work scope consisted of:
General visual inspection of fiv (5) pipelines
Damage (including leaks)
Debris (which may affect the integrity of the pipeline)
Freespan suspensions (which may affect the stability of the pipeline)
Movement (lateral or vertical)
Level of cathodic protection
During the course of survey, additional scopes to measure gas leaks at KP 131.194 tie-in skid of 32" pipeline BKT – ERP and KP 136.588 PLEM of 42" pipeline JDA KP60.4 – ERP was requested by the Client. Leak measurement tasks were carried out as per Gas Measurement Procedure. The Client also requested to have a look at the Tantawan PLEM for diver access.
All survey and inspection tasks were conducted utilising PTSC's vessel M.V. PTSC Binh Minh and using the SMD Quantum 4 work class ROV and Seaeye Tiger 865 observation class ROV. Digital video and data recording and survey data acquisition were performed using QINSy and Visual Soft software systems.
The Pipeline Survey commenced on the 15th August 2018 and completed on the 25th September 2018.