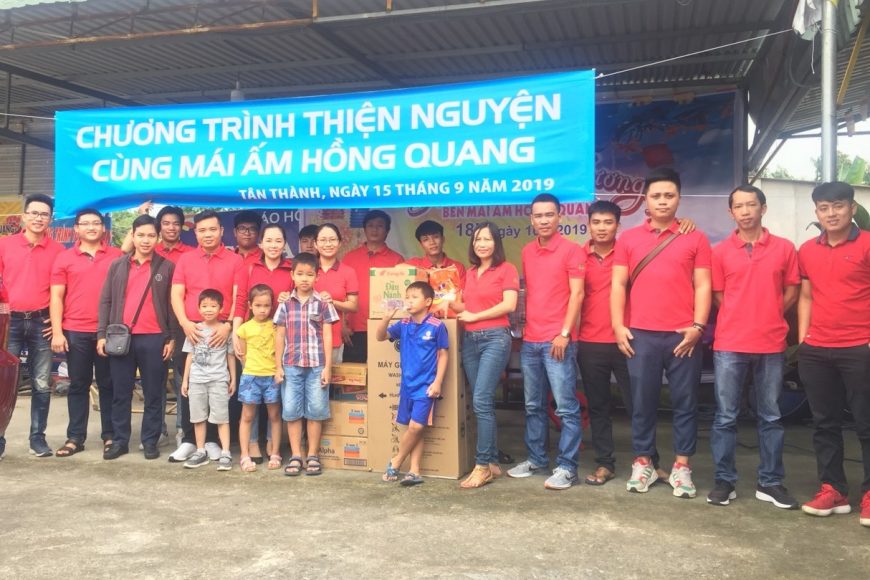 Continuing the annual social activities with the purpose of helping those in difficult circumstances in life, recently, Greenstar Positioning Joint Stock Company organized a Volunteer Tour to Hong Quang Shelter, a small temple nestled in Tan Hoa commune, Tan Thanh District, Ba Ria – Vung Tau Province.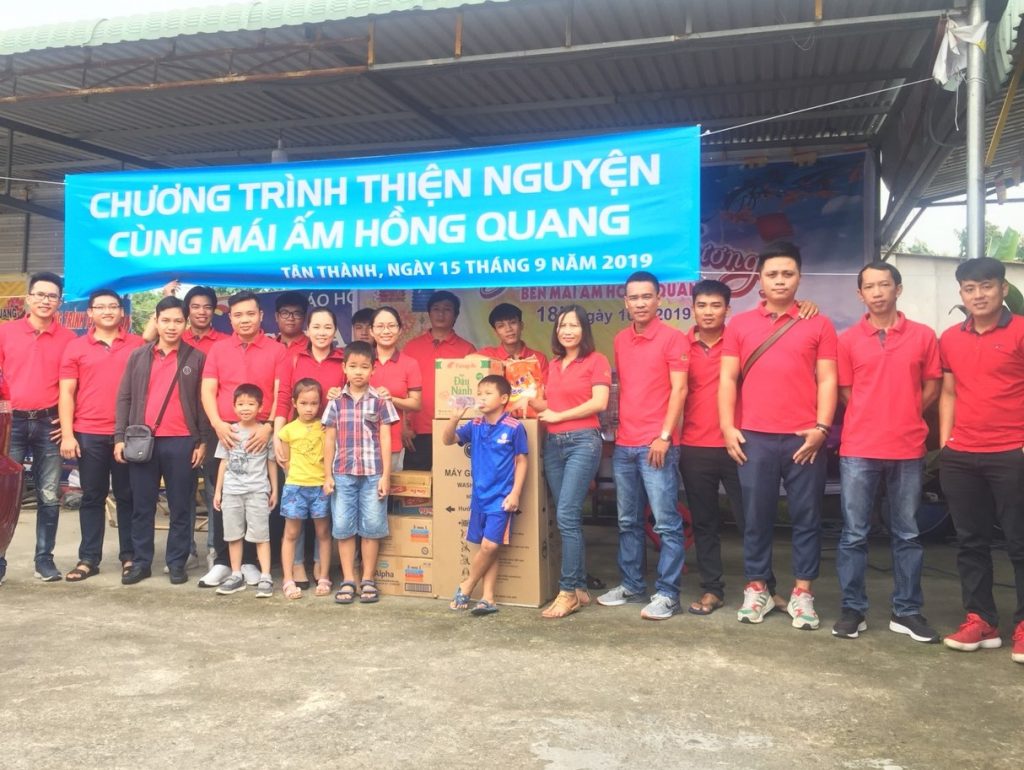 On a sunny Saturday morning, it took us only 40 minutes to drive to the children – the unfortunate children at Hong Quang Shelter. Welcoming us was the monk Thich Thien Thong who left his head bare, barefooted, and dressed in golden robes, with a friendly, likeable smile. Few people know at the age of nearly 40, he has single-handedly raised over 80 orphans. Not only taking care of their food, and their education, the unnamed children were personally brought to the commune committee to make their birth certificate and took the Ho family name (his real name is Ho Anh Tuan).
Initially, the pagoda, known as the Hong Quang shelter was only built temporarily with bamboo and palm leaves. After three years of building the facilities (from 2005 to 2008), he started to adopt orphans and newborns abandoned by their parents. Starting with at first 25 children, up to now, nearly 100 are being cared for and raised. At times when the children were ill, each one lacked love and wanted to be held, dilemmas are almost unavoidable. But thanks for love with the children, the 39-year-old man overcame all difficulties to raise skinny, and unhealthy children into healthy, happy ones.
Coming to Hong Quang home, we deeply feel that nothing is as fortunate and happy as having a healthy child. Normally raising a child is difficult, so raising and taking care of dozens of sick children is much more difficult.
After visiting and talking with the abbot Thich Thien Thong, the representative of the volunteer group of Greenstar Company, Mr. Cao Duc Huy sent greetings to the monk, the children who are currently raised at the shelter. At the same time, he presented gifts that the group had prepared.
Looking at the children's faces, eager for the gifts and milk boxes, we also felt more heartwarming for bringing them a small joy in the middle of the misfortunes and difficulties they have encountered since birth. That joy helps us to realize more the truest values of life, so that we feel more loving and optimistic, and also let our hearts more sympathetic and shared.
Children was in living room

The abbot Thich Thien Thong and children in living room

Children was waiting excitedly for candy
Our desire to share more meals for the children will continue. Because we understand that a good business is not only responsible for the country, the customers or the dear employees, we also have to be responsible to the community to which we belong.