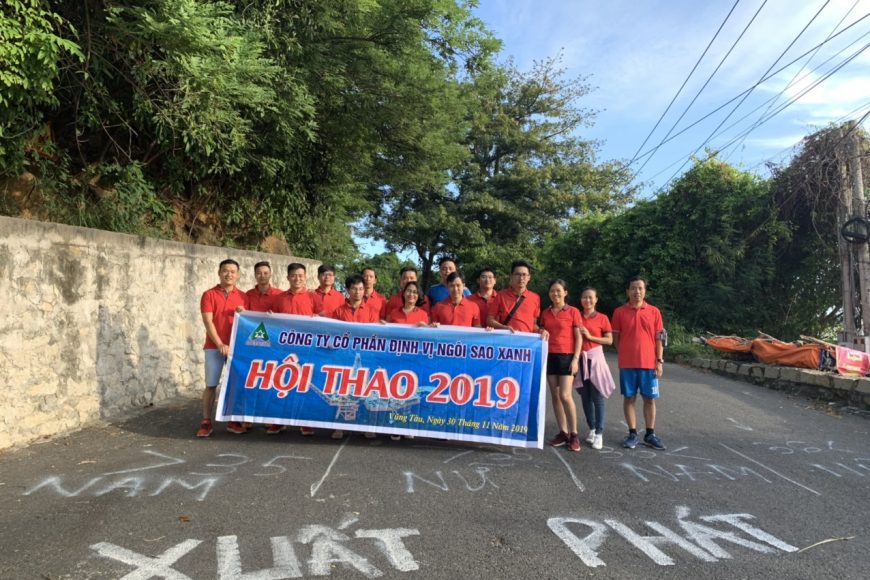 Joining the exciting atmosphere to celebrate the 90th anniversary of the establishment of the Vietnam General Confederation of Labour, on November 30, GreenStar Positioning Joint Stock Company organized a 2019 Sports Festival in Vung Tau City. Along with other practical and meaningful activities, the Sports Festival has shown interest, care for material and spiritual life for employees of the Board of Directors, creating a premise to encourage employees to work out, striving to complete the plan in 2020.
This year's sport festival was attended by Mr. Cao Duc Huy – Company Director, Mr. Le The Anh – Deputy Director and all 31 staff members of the company.
Staff compete in 2 disciplines: Climbing and football. Climbing is held at Mount Viba with both men's and women's content. Meanwhile, football is held at Tan Phuoc Thinh football field with Senior and Junior teams.
After half a day, the sports festival ended successfully; The organizing committee of the sports festival awarded prizes to individuals with excellent performance at the sports festival.
After half a day of exciting competition, with the spirit of competing "Solidarity – Honesty – Noble", with the best efforts in the competition, the athletes competed excellently, and prizes awarded to worthy winners. The sports festival has brought new energy in a year with many events within  GSP, adding motivation to the employees to strive to complete all assigned tasks with enthusiasm and success.
In the content Climbing for men:
First place winner: Nguyen Van Phuong
Second place winner: Le Vinh Phu
Third place winner: Doan Hoang Dung
In the Women's Climbing content:
First place winner: Pham Thi Nguyet Que
Second place winner: Vu Thi Thuy
Third place winner: Le Thi Thu Ha
In the content of football competitions:
The senior team won convincingly against the Junior team with a strong score.
This is the first time the sports festival has been organized but it has helped people have the opportunity to interact and connect with each other more, and create a rewarding playground, arouse the spirit of sport in the company… Here are some pictures recorded at GSP Sports Festival 2019: